Leave a Comment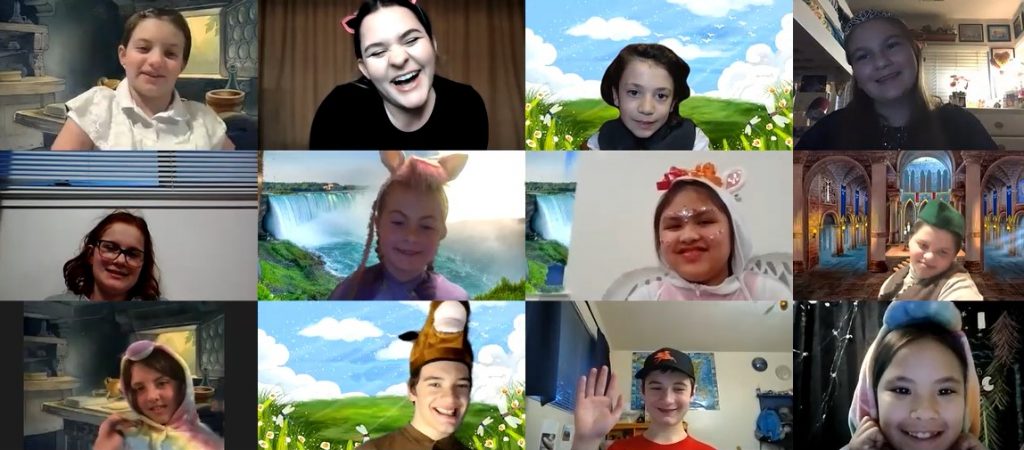 Spring Workshops at ARIEL Theatrical
Don't miss your chance to have a virtually awesome theatre experience with ARIEL! Get ready to "Zoom" with friends and ARIEL instructors beginning March 22, 2021. Space is limited so "spring" into action and register today! And for home school kids….come and "play" with us outside for another session of The Play's the Thing: UnZoomed! Scroll down for class information and registration form link.
Theatre Fun with Kylee [ages 5-7] – $50 
Mondays, March 22 – May 10, 4-4:45pm
Singing, dancing, games and more! ARIEL Artist-In-Residence Kylee Sullivan will lead the way with fun and surprises galore!
Zoomtastic 6 [ages 8-12] – $100 
REGISTRATION CLOSED
Mondays and Wednesdays, March 22 – May 12, 6 – 7pm
The Zoomtastic series has created a vortex of fun that grows more powerful with each installment. Zoomtastic 6 will keep the momentum and creativity going! Jump online and see what all the buzz is about! Register today for a "Zoomtastic" time!
Virtual Playhouse [ages 10 & up] – $175

 
REGISTRATION CLOSED
Tuesdays and Thursdays, March 23 – May 13, 6-7:30pm
Did someone say "online theatre performance"? Yes, we did! Another installment of Virtual Playhouse is right around the corner and we are looking for kids to join the cast! This is theatre like you've never experienced, all online and all from your own home! Be part of our Pandemic-Proof Performance Preparation Program, and when we can get back on stage in person, you won't miss a beat! Register today!
The Play's the Thing: UnZoomed [ages 6 & up] $100
REGISTRATION CLOSED
Fridays, April 9 – May 21, 10:00-11:30 am
If you have questions about The Play's the Thing or would like information about future class offerings, send an email to
ariel@arieltheatrical.org
or call us at 831-775-0976.
• • • • • • • • • • • • • • • • • • • • • • • • • • • • • • • • • • • • • • • • • • • • • • •
Our home school theatre class, The Play's the Thing: UnZoomed, will be outside, socially distanced, and is open for registration! Space is limited as we will be carefully following COVID-19 safety protocols. Join us for theatre activities, games, and lessons that will inspire positive action on stage and in life. We look forward to seeing your faces soon! Classes will be held at the Toro Park Estates neighborhood greenbelt.