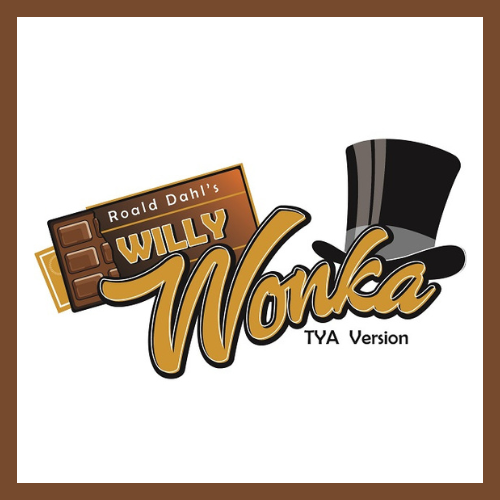 Registration Opening in January 2024.
AGES: 7 – 18
In order to ensure age distribution to meet the requirements of the script, registration for younger participants may be capped.
TUITION: $650

for online, check or cash payment; $675 for charter school purchase orders
If paying with a charter school purchase order a $25 fee will be added to cover the extra administrative time for charter school invoicing.
Roald Dahl's Willy Wonka TYA will be the sweetest summer camp in Monterey County! Join the cast and embark on a fantasy ride to a "world of pure imagination." This scrumptious musical adventure will follow Charlie Bucket and the other Golden Ticket holders through the magical Chocolate Factory as they meet a colorful cast of characters while learning lessons that only the "Candy Man" can teach.

PRELIMINARY REHEARSAL/PARENT MEETING:
SATURDAY JUNE 22, 9:00 AM – 12:00 PM
PARENT MEETING, 11:30 AM – 12:00 PM 
FIRST FULL DAY OF CAMP: MONDAY, JULY 8
CAMP SCHEDULE:
MONDAY – FRIDAY
JULY 8 – JULY 26
9:00 AM – 3:00 PM

PERFORMANCES:
THURSDAY, AUGUST 1 AT 7:00 PM
FRIDAYS, JULY 26 & AUGUST 2 AT 7:00 PM
SATURDAYS, JULY 27 & AUGUST 3 AT 2:00 PM & 7:00 PM
*Communications regarding this program will be sent to the email address provided in the registration form.