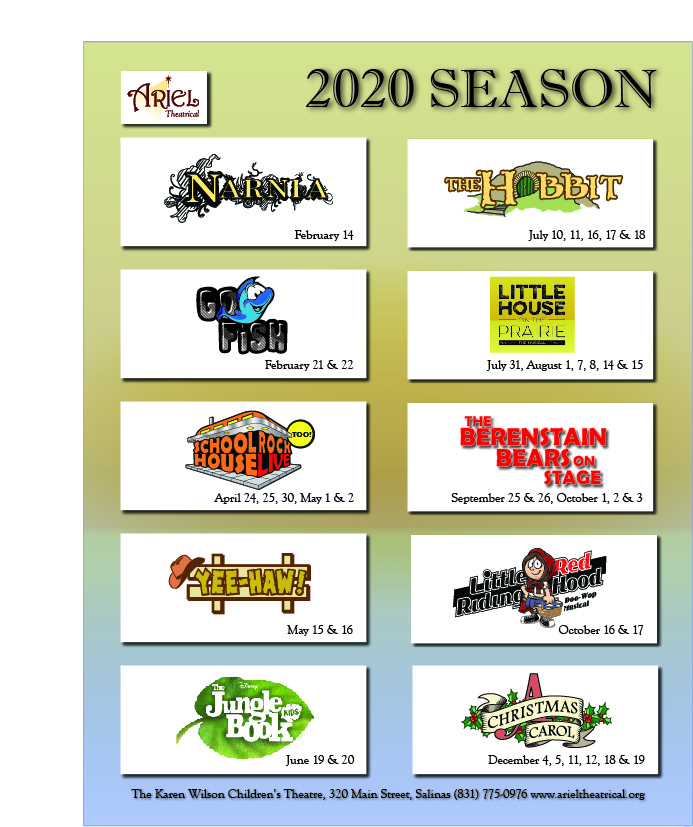 COVID-19 UPDATE – Due to the COVID-19 pandemic and related mandated restrictions, our performance season has been shifted to 2021. In addition, we are providing online workshops (ARIEL Pandemic-Proof Performance Preparation Program – PPPPP) to engage young people and keep them connected to ARIEL and each other during this difficult time. 
Announcing the ARIEL Theatrical 2020 Season (delayed – see message above):
Get ready for unforgettable adventures on stage at ARIEL Theatrical! Brand new shows, classic favorites, and opportunities for young people to participate in an award-winning after-school program are right around the corner!
In addition to the performance programs, ARIEL will offer a one-week theater camp (Kids On Stage) and three sessions of our day-time class (The Play's the Thing) for home schooled children, grades K-12. ARIEL will also continue the REACH Theatre program, a partnership with Special Kids Connect, and several off-site theatre programs throughout Monterey County.
Registration forms are available in the lobby at ARIEL and online. Many programs offer early-bird discounts so it pays to plan ahead. For more program information and a detailed description of each show visit the ARIEL website at www.arieltheatrical.org, call 831-775-0976, or stop by the Karen Wilson Children's Theatre at 320 Main Street, Salinas.