Leave a Comment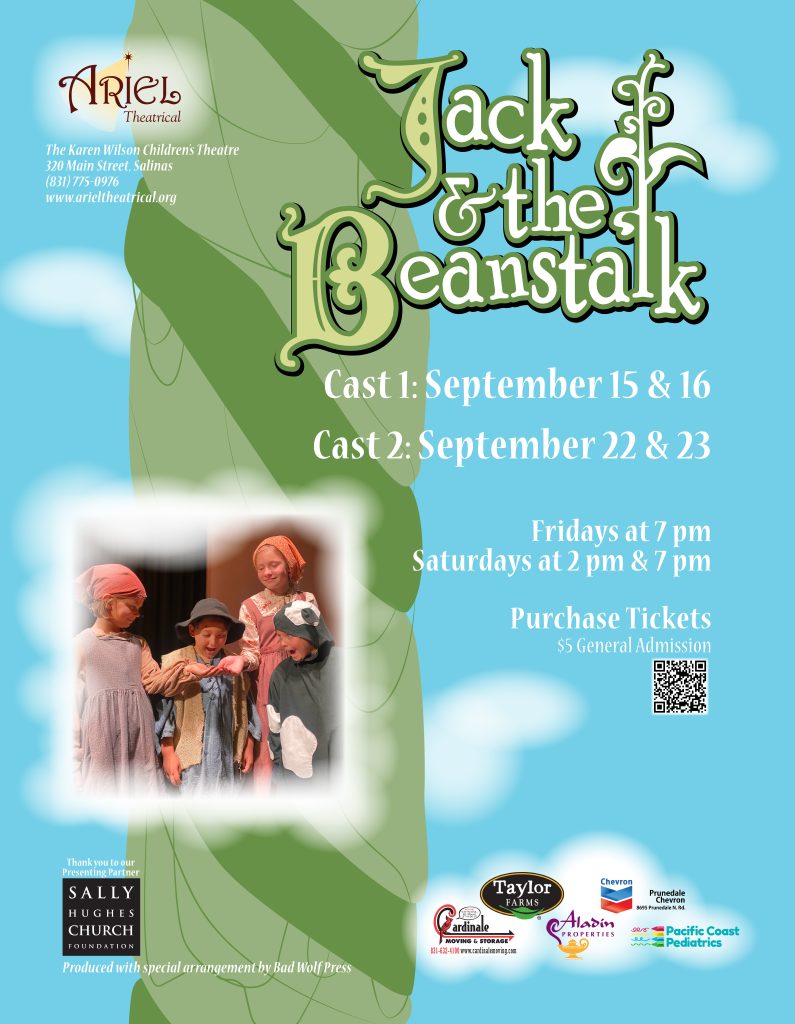 Fee – Fi – Fo – Fum – Join ARIEL Theatrical for some Jack and the Beanstalk fun!
This beloved fairy tale comes to life on the ARIEL stage for two weekends in September. Jack, an ambitious boy with big dreams, turns a seemingly foolish trade into the adventure, and opportunity, of a lifetime! This musical story is the perfect introduction to live theatre for families with young children. Jack and the Beanstalk features two casts for twice the fun!
Performances for Cast 1:
Friday, September 15 at 7 pm
Saturday, September 16 at 2 pm & 7 pm
Performances for Cast 2:                 
Friday, September 22 at 7 pm
Saturday, September 23 at 2 pm & 7 pm
Location: The Karen Wilson Children's Theatre – Home of ARIEL, 320 Main Street, Salinas
Tickets: $5 all ages
Tickets may be purchased online, by phone (831-775-0976), or at the ARIEL box office.
Located in the beautifully renovated Oldtown neighborhood of Salinas, ARIEL Theatrical provides opportunities for children to explore the stage and learn valuable lessons about Accountability, Respect, Integrity, Excellence and Leadership – A-R-I-E-L. ARIEL is a safe and nurturing gathering place for young people where engaging programs and family-friendly entertainment take center stage. ARIEL is honored to acknowledge the Sally Hughes Church Foundation as our 2023 Presenting Partner.
ARIEL is grateful to many local businesses for their generous support. Season Sponsors are Aladin Properties, Cardinale Moving and Storage, and Taylor Farms. The show sponsor is Prunedale Chevron.