Leave a Comment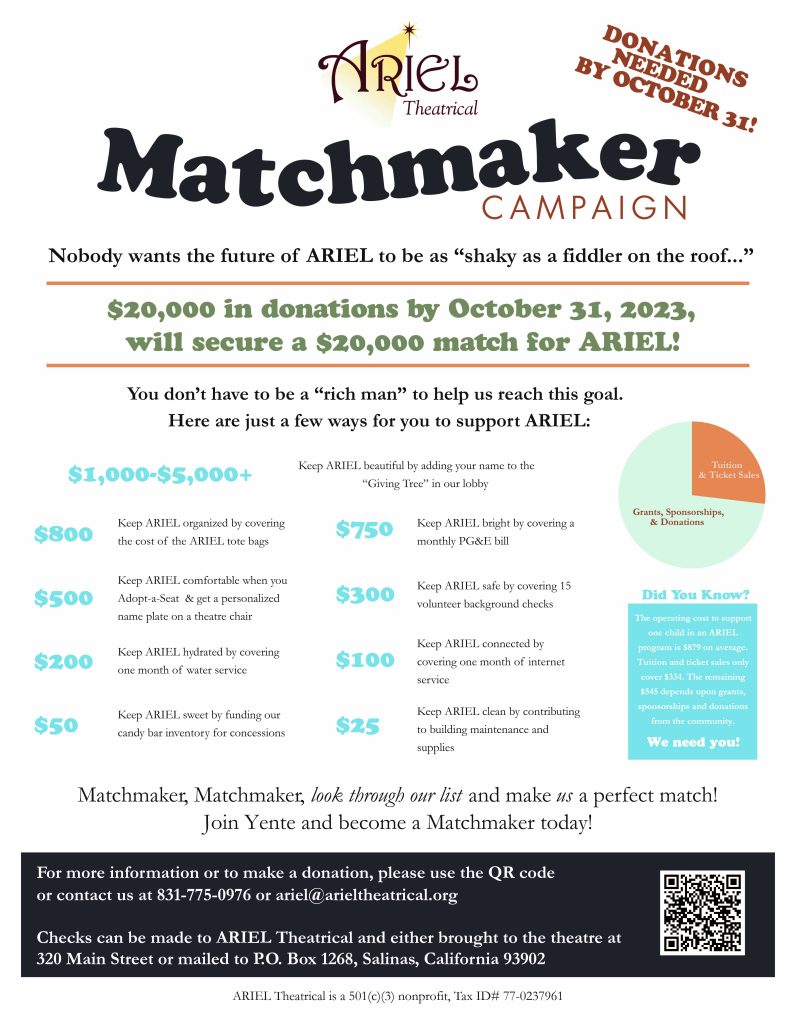 Every dollar donated will be matched when ARIEL generates $20k in support by October 31.
Inspired by ARIEL's recent production of Fiddler on the Roof, the Matchmaker Fundraising Campaign is in full swing! In today's world, it is becoming more and more difficult to successfully operate a nonprofit theatre due to a variety of challenges. In fact, theatres around the country are closing their doors at an alarming rate. Building financial momentum is a must for the security and longevity of ARIEL. With that in mind, a generous donor has given the ARIEL community a challenge. If $20,000 is raised by October 31, a $20,000 matching donation will be shared with ARIEL. This first step in our strategic fundraising plan will allow ARIEL to proceed into the 2024 Season and move toward a sustainable future. There is strength in numbers, so please consider becoming a "Matchmaker" for ARIEL today.
Donations of cash or check are gratefully accepted at ARIEL – 320 Main Street in Salinas – and online donations may be made HERE . Checks may also be mailed to P.O. Box 1268, Salinas, CA 93902.  As a reminder, ARIEL Theatrical is a 501(c)(3) nonprofit and donations are tax-deductible to the fullest extent allowed by law – Tax ID #77-0237961.