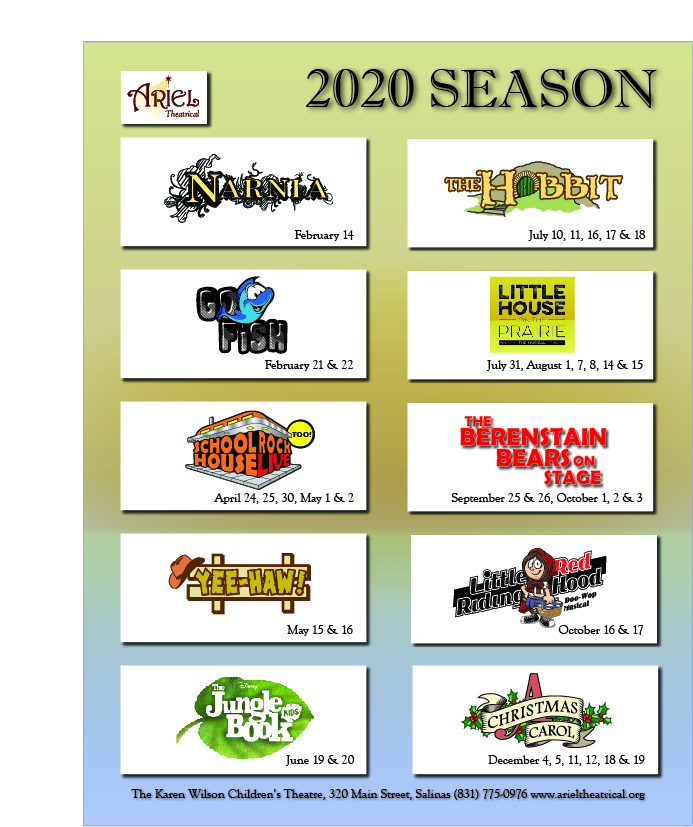 Announcing the ARIEL Theatrical 2020 Season!
Get ready for unforgettable adventures on stage at ARIEL Theatrical! Brand new shows, classic favorites, and opportunities for young people to participate in an award-winning after-school program are right around the corner!
In addition to the performance programs, ARIEL will offer a one-week theater camp (Kids On Stage) and three sessions of our day-time class (The Play's the Thing) for home schooled children, grades K-12. ARIEL will also continue the REACH Theatre program, a partnership with Special Kids Connect, and several off-site theatre programs throughout Monterey County.
Registration forms are available in the lobby at ARIEL and online. Many programs offer early-bird discounts so it pays to plan ahead. For more program information and a detailed description of each show visit the ARIEL website at www.arieltheatrical.org, call 831-775-0976, or stop by the Karen Wilson Children's Theatre at 320 Main Street, Salinas.
Please follow and like us: